It's an enormous pleasure to bring here on Perpetual Passion an exclusive interview with Peter Harrison, CEO for EMEA market of none other than Richard Mille!
To be precise, Peter is the CEO of Richard Mille EMEA which is a Joint venture founded in 2006 between Horometrie SA (the company which owns the brand Richard Mille) and Redgrave Luxury Ltd, Peter's company, to distribute RM watches within EMEA areas. This partnership has been extremely successful, the brand has grown a lot since the collaboration has started (111% in 2013) thanks to the close relationship between the companies and trying to reinvest in a clever way the revenues, like opening new exclusive boutiques around EMEA area.
The interview is divided in 4 main topics, each one with 3 to 5 dedicated questions: Peter Harrison, Richard Mille's technology and collections, Richard Mille's market and Richard Milles' world.
PETER HARRISON
ANDREA FRIGERIO
Peter, you hold a top position in Richard Mille, do you have influence or decision power also on the product development phases or you're focussed only on the marketing, distribution and similar areas of the business?
PETER HARRISON
As we work very closely with Richard I am aware of the ideas he is developing and we discuss about how we think the piece will perform in the different markets, but he is the one along with Dominique Guenat, co-owner of Horometrie, and the team from the factory, who develops the latest models.
ANDREA FRIGERIO
Which is you favourite RM? ("the next one" as answer is not accepted ahahaha)
Is there an RM which you're deeply linked to? Why?
PETER HARRISON
I love my RM 004 All Grey. The RM004 is for me the RM with the perfect proportions.
ANDREA FRIGERIO
Is there the possibility to make a good career within Richard Mille? Which are the characteristics you'd like to find in future Richard Mille's managers?
PETER HARRISON
Although the company has grown substantially over the last years, the team still works like a family. We all know each other, and I have direct contact with everyone. Our staff has generally been around for several years, we even have people who have been working with us for more than ten years! It is important for me to keep this human link with my collaborators.
I am interested in people whose personality match with the family spirit of the company, people who have open minds and can tailor their strategy to the company as we work differently from other brands.
ANDREA FRIGERIO
Which is your opinion about independent watchmakers?
PETER HARRISON
I think they are very important for the market. They bring their own vision and inspiration of the horology industry and offer something different from the rest of the brands. Their volumes are quite restricted and address to a specific clientele.
ANDREA FRIGERIO
Which is according to you the key feature that determined Richard Mille's success? In my opinion it is the overall comfort on the wrist, do you agree?
PETER HARRISON
Indeed, the comfort of our pieces is undeniably an asset. We are the only brand to offer such a curve from the back case to the glass. It allows the timepiece to adapt to its wearer and not the other way around.
I would also mention the innovation in our materials as we have several patents that we developed with the best in their industries, such as Graph TPT ™, that is an alloy of Graphene and Carbon TPT™. Graphene was developed by the University of Manchester for which the searchers were awarded the Nobel Prize of Physics in 2010. Richard Mille teamed up with NTPT and McLaren to develop Graph TPT™ by associating Carbon TPT™ to Graphene; the result was the lightest mechanical split-seconds tourbillon chronograph ever produced, weighing a mere 40 grams including the strap.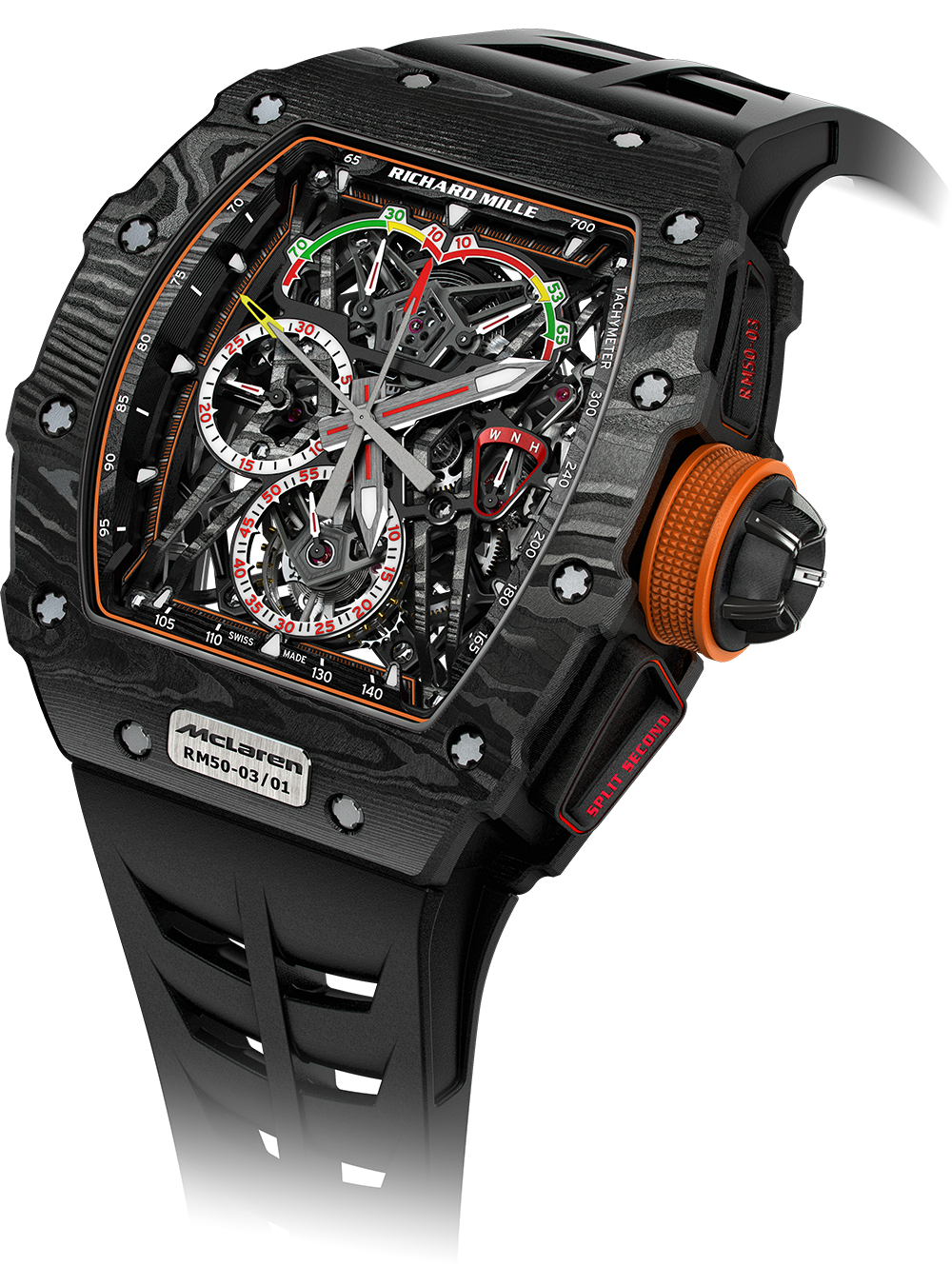 RICHARD MILLE'S TECHNOLOGY AND COLLECTIONS
ANDREA FRIGERIO
From 2001 with the launch of RM 001 and 002, Richard Mille has signed an extremely important groove in watchmaking history. We can easily say that there is a "Pre Richard Mille" and an "after Richard Mille" phase. What do you think about all the brands that started to take inspiration and follow your watch-philosophy, watch-shapes and watch-materials? (e.g. Hublot, Audemars Piguet, ecc ecc)
PETER HARRISON
Every brand as a uniqueness that makes their clients support them. We work closely with Audemars Piguet Renaud & Papi to develop our tourbillons, that is why you might see some similarities in some aspects of some of our movements.
ANDREA FRIGERIO
The introduction of TPT technology through your partnership with NTPT in 2013 was an enormous revolution for the industry and today you're still improving it with different colours and applying it on all the collection. Which is the Next Big Innovation for Richard Mille?
I've seen many interesting solutions during the last few years that have never been extended to many models such as the magnesium alloy case of RM 038 or the unbreakable glass of RM 53-01. Is there the possibility to see them in future?
PETER HARRISON
We like to be a leader in material innovation as the essence of our timepieces is to be worn in your everyday life, whether you are a professional polo player, a sailor or an F1 pilot. Our clients can wear our pieces in extreme conditions as in a city life. That is the reason why we have several patents for materials that we developed in-house and with partners. Each material we create serves a purpose, that is why sometimes we see the material being used to produce only one model. It does not mean we cannot reuse it or adapt it to a future reference.
The factory is working on a few very interesting projects that will be launched over the next months or years, but as you know we like to be where we are not expected to be and keep the mystery until the last minute.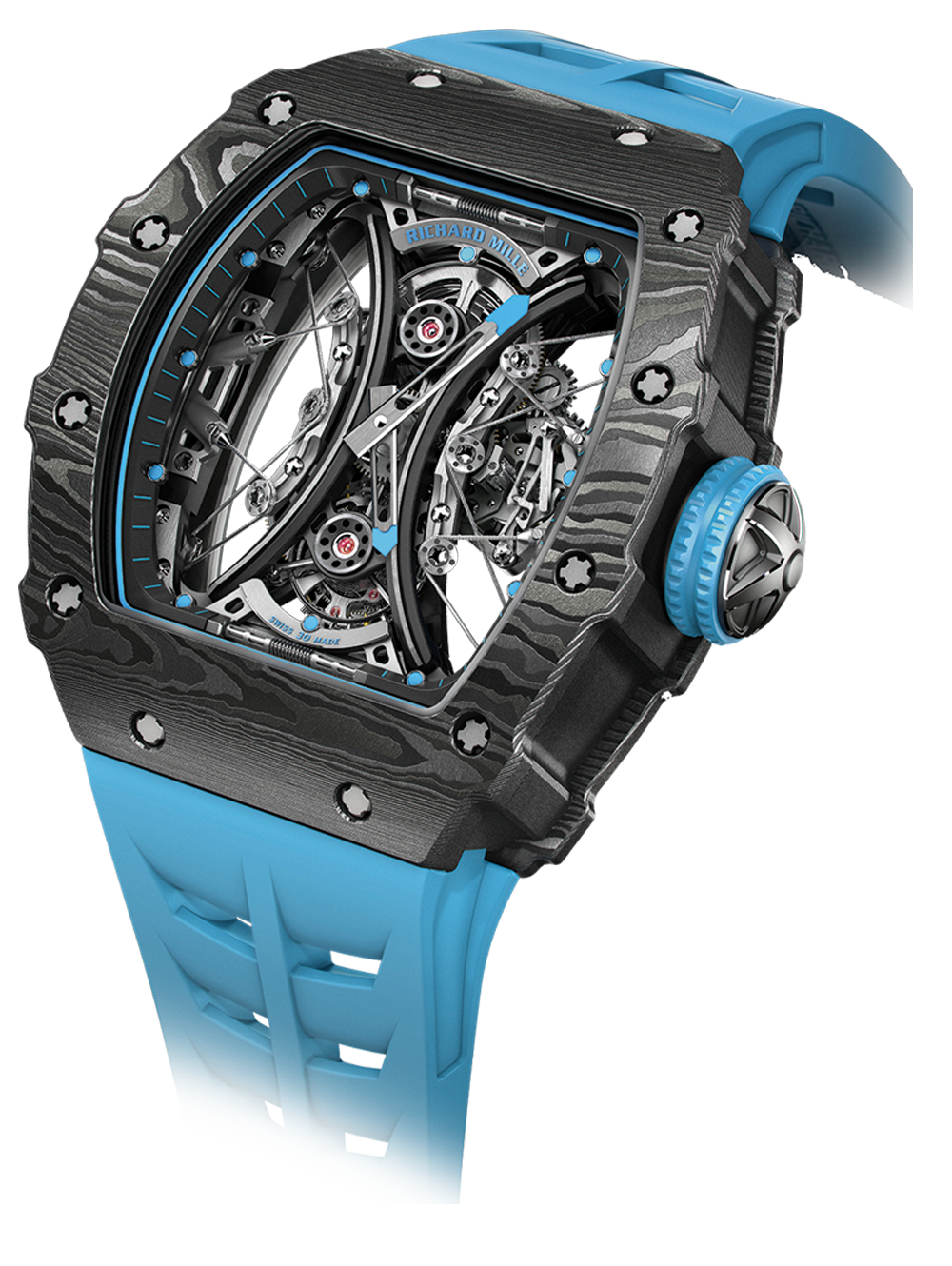 ANDREA FRIGERIO
As it's happening in the automotive industry, there are very few independent brands which have started to explore the possibility to make hybrid watches (e.g. Ressance). These watches have a mechanical core but also electric servo-motors, sensors and micro-actuators which make possible to control the watch through a smartphone. Is this a possible future development for Richard Mille and for high end watchmaking industry?
PETER HARRISON
At Richard Mille, we like to keep everything mechanical, so at the moment, this is not really in the books. There are already a few brands that have included some electronics in their pieces as it was certainly the right timing for them, but this is not where we want to be at the moment.
ANDREA FRIGERIO
Bon-Bon collection presented during SIHH 2019 has generated quite a big noise. Did you succeed in selling the entire collection? How good has been the image return generated by it? Big noise for big image return?
PETER HARRISON
We like to be where we are not expected to be, and the Bonbon was a perfect example of that. Cecile Guenat designed this collection taking the inspiration from our existing classical automatic range of RM 037, RM 07-01 and RM 016. Some of the details such as the crown of the RM 07-01 reminded her of Bonbons, so she followed the idea declining the idea in a colourful theme and designed this joyful mixed range that almost sold out during SIHH. It is now completely sold out.
RICHARD MILLE'S MARKET
ANDREA FRIGERIO
Which is Richard Mille's most important market? Which are the next countries you'd like to open a boutique in?
PETER HARRISON
Europe, Middle East and Africa is a major market for the brand. We have 14 boutiques, split across Paris, Monaco, London, Munich, Geneva, Milan, Doha, Istanbul, Riyadh, Jeddah, Dubai, Abu Dhabi, Beirut and Kuwait.
We are developing the Middle East region at the moment, with the recent openings of Doha, Kuwait City and are about to open Riyadh and Jeddah, so we are focusing on these countries for now.
ANDREA FRIGERIO
Many brands have already started to partially convert their retail strategy using e-shops also. Cartier, for example, does it by many years but recently Patek Philippe has authorized a restricted bunch of dealers to apply this strategy too (forced due to COVID-19 situation). Do you think that also Richard Mille can apply it in the future? Maybe by setting up an online drop just to have the possibility to go to a boutique and find a certain watch as it happens with Sneakers. Which is your opinion about it?
PETER HARRISON
We are not looking at selling online as Richard Mille pieces need to be explained and presented, so clients can understand the technology and research lying in each watch. These are pieces that also need to be tried on the wrist to feel their comfort and be looked into with a magnifying glass to see the level of details lying into each piece. Additionally, due to our limited production (we are aiming at producing about 5000 pieces this year), it makes it difficult to sell online and physical boutiques are much more appropriate for us.
ANDREA FRIGERIO
It's well known that many resellers succeed in having most of Richard Mille's limited editions, including 5- or 10-pieces ones which should be reserved to extremely selected clients, selling them with important price increases. How do you fight this phenomenon? How do you behave with customers which have betrayed Richard Mille's trust by immediately selling their (important and limited) watches few weeks or month after their purchase
PETER HARRISON
We have a very strong due diligence process in EMEA which we had in place in the last few years, since we opened our own stores. Like this it ensures, or at least tries to ensure, that our genuine clients get the watches they want. We believe this will be replicated globally.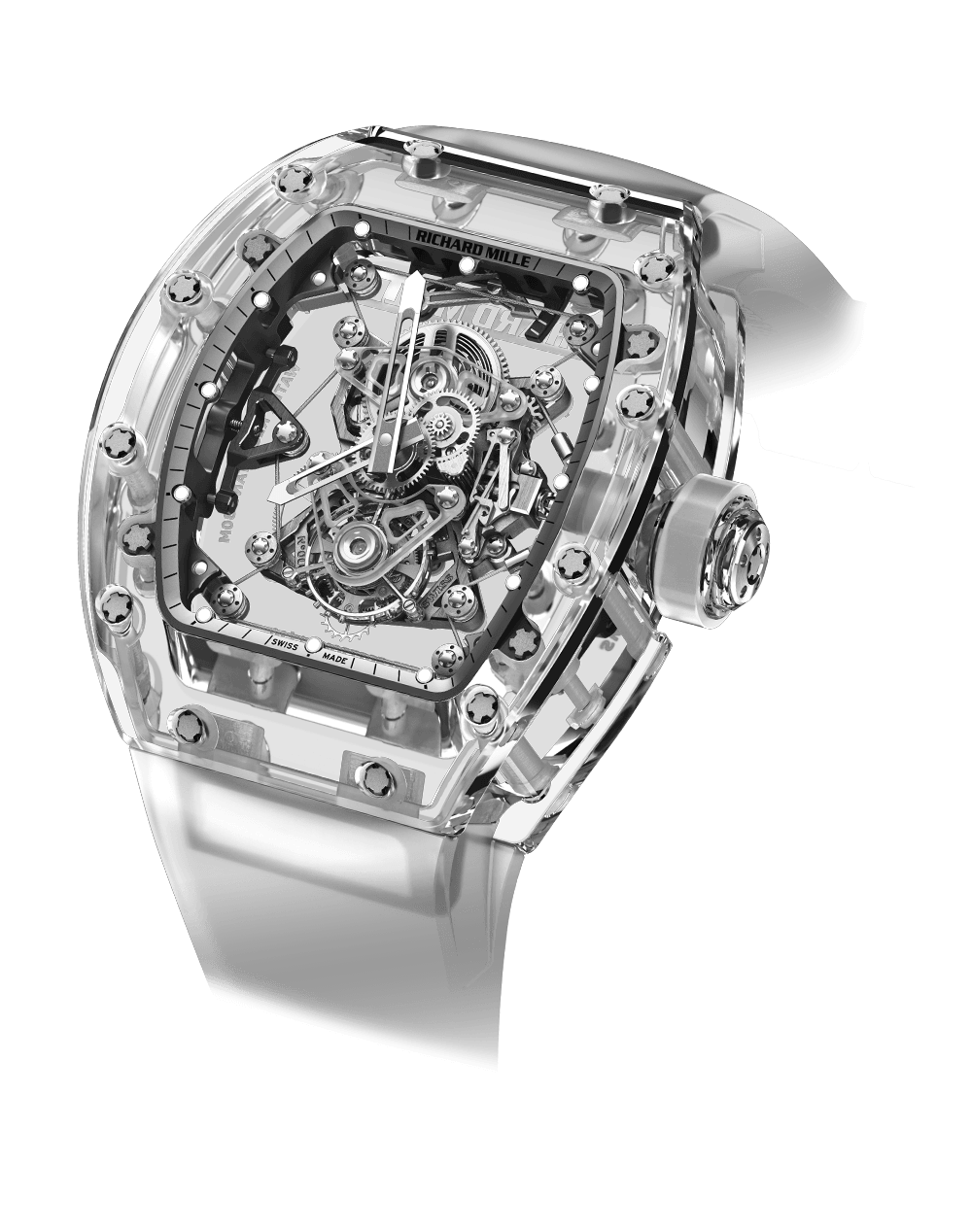 ANDREA FRIGERIO
Are there models which you desire to sell more than others?
PETER HARRISON
We do not have a problem to sell pieces, our issue is about finding availability to match the demand, so we do not have any specific pieces we wish to sell more than others.
RICHARD MILLE'S WORLD
ANDREA FRIGERIO
Which is the most important Richard Mille's event? Le Mans Classique or Les Voiles de Saint Barth?
PETER HARRISON
They are both major events for the brand and also very different from one another. Le Mans Classic takes place on the iconic and historic circuit of Le Mans, featuring some of the most exclusive classic cars in the world during a 24-hour race. It is a mix of different challenges; the first one is for the pilots to drive around the clock and the second one comes with the old age of cars and mechanical breakages that naturally come with it.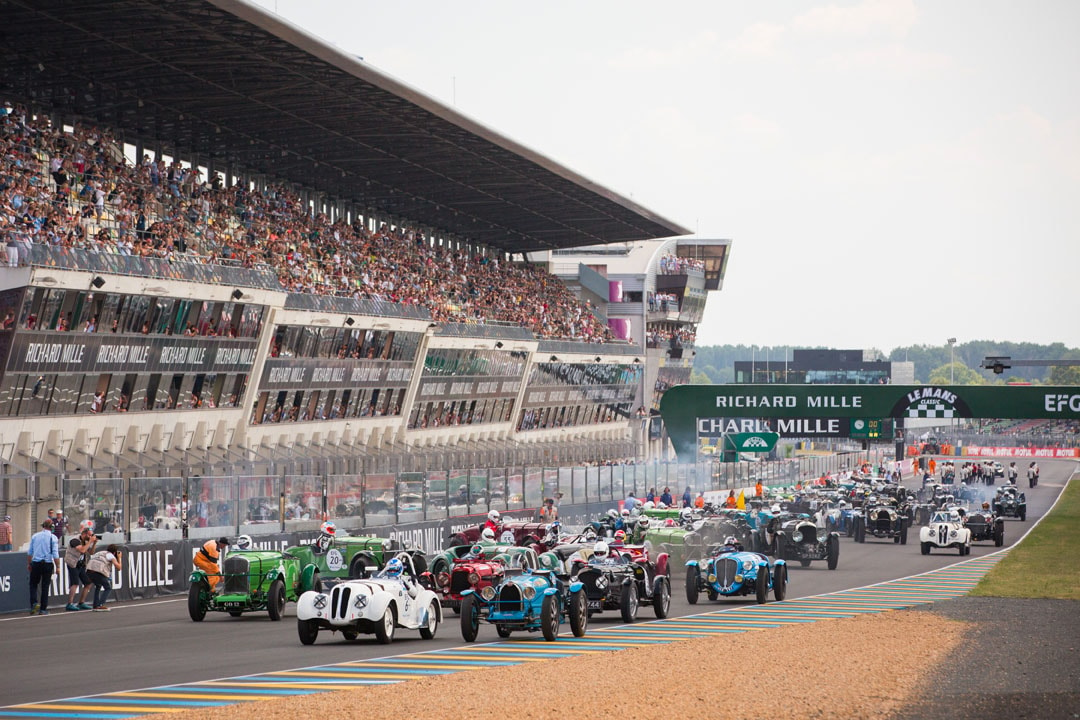 Les Voiles de Saint-Barth is one of the most prestigious regattas in the Caribbean. It has helped promoting the island over the years and puts it at the maximum of its capacity. It allows for sailing passionates and professionals to discover this gem from the coasts. I personally am particularly affectionate of this event as I have been taking part in it since 2013.


The common point for both events is the importance of keeping time during the competition, which is partly why we decided to partner with them. They perfectly represent endurance and resistance, which are two of the main characteristics we develop our timepieces for.
ANDREA FRIGERIO
Is Richard Mille closer to F1 or Sailing worlds according to you?
PETER HARRISON
Richard Mille is closer to motorsport, after all our slogan is 'a racing machine on the wrist'. It comes from the fact that Richard's experience started with automotive and is his primary passion. He often takes inspiration from the motorsport industry as he sees the functioning of a watch as a car; every element has to be useful and serve performance. We can also see the correlation in the materials we use in our timepieces as they are often taken from the car industry.
That said sailing also uses similar performing and innovative materials and we have started introducing materials such as the composite Carbon TPTTM, which derive from a development with North Thin Ply Technology [a sister company to the North Technology Group] and inventors of the 3Di™ technology for North Sails' grand prix yacht racing sails.
ANDREA FRIGERIO
How is it possible to become a Richard Mille ambassador? Do you like exploring different environments with respect to sports and actors to find new ambassadors?
PETER HARRISON
Our partners come from different disciplines. There is no specific sport we are looking at, but we need them to wear their watch during their training and competitions as it allows to develop our watches in partnership with them and improve their resistance and performance. Most of the time partnerships come from a genuine relation with Richard or with the CEOs of the region. We do not like long contracts and prefer gentleman's agreements.
I'd like to deeply thank Richard Mille and Peter Harrison for this amazing occasion!